This building was originally a sake merchant house,built as a brewery in 1886.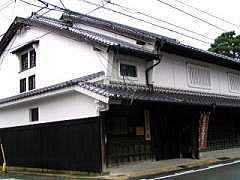 This traditional Japanese architectural style is special in terms of using rather distinct large wooden segments;moreover,such materials are hardly seen in the construction of modern buildings. however,this style has been designated as one of our nation's tangible cultural properties.
It is now used for the purposes of a life-long learning facility of Yamaguchi City. It contains an exhibition of the traditional craft products in Yamaguchi. It is open to all citizens so that they can use this place freely and effectively.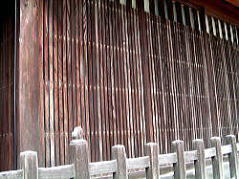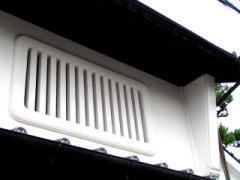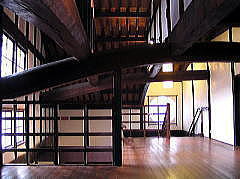 lattice window/plaster lattice window/beams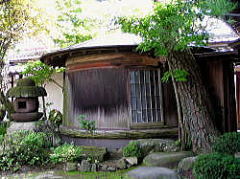 tea-ceremony room
in the shape of the sake cask

■Ouchidolls
The Ouchi clam was the powerful governor ( shugo daimyo ) based in Suo Province that is today the eastern part of Yamaguchi Prefecture for Muromachi Period. Hiroyo Ouchi, who ruled 1352-1380, married a pretty lady of the Sanjo family in Kyoto and welcomed her to Yamaguchi.
But the wife missed Kyoto very much and kept indoors from morning till night,So Hiroyo,her husband adorned a big room for her with many Kyotostyled dolls.
People called the room Ningyo Goten or Doll's Palace. The room became famous all over the country,many doll-makers came to Yamaguchi and began to make so-called Ouchi Dolls,by imitating the Palace's dolls. This is the beginning of Ouchi Dolls.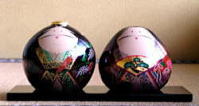 However,Hiroyo's descendant Yoshitaka Ouchi who ruled 1528-1551,was defeated in a battle and Yamaguchi had two big fires. As a result, the Ouchi culture was reduced to ashes and Ouchi Dolls stopped their existence.
We began to make the dolls again after some 400years lapse as Yamaguchi's traditional product. The dolls are classical and simple in modern color. They are one of the typical Japanese dolls and famous abroad,too.
We sincerely hope that you love the Ouchi Dolls,because they symbolize the harmonious couple.

★Learn the secrets of Ouchi lacquer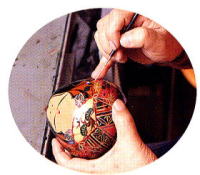 An Ouchi lacquer demonstration corner has been created at the Yamaguchi Furusato Heritage Center.
Why not take up the challenge of trying your hand at traditional lacquering?
(Reservations required.)


Access     By train:  25min. walk from JR Yamaguchi Station
         By bus:  5min. walk from Tatekoji bus stop (Bocho Bus)
         By car:  15min. by car from Yamaguchi IC. on the Chugoku Expressway
                20min. by car from Ogori IC. on the Chugoku Expressway

Hours      9:00 - 17:00

Closed     December 29 - January 5, August 14 - 16

Admission   free

Address    12 Shimotatekoji,Yamaguchi City,Yamaguchi,753-0034,Japan
         TEL. (083)928-3333